Mongolian craftsman gets a head start from Handicrafts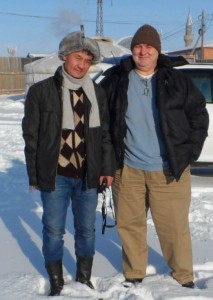 Adilbek is a leatherworker in Mongolia, and his work just got a little easier! Adilbek makes leather handicrafts like bags and shoes, and is part of the network of artisans called Mary & Martha Mongolia whose products we sell in our Global Handicrafts shop. In the past, Adilbek had to make his products by hand, a time-consuming process. Recently, though, Global Handicrafts paid Mary & Martha Mongolia their 'fair trade premium', the money set aside from their sales in our shop for investing back into their community. Mary & Martha chose to use that money to purchase for Adilbek a leather cutting machine, sewing machine and stamping machine, to allow his business to thrive, and produce more products in a shorter time.
We're so excited to see the fair trade premium at work! The handicrafts produced by Mary & Martha's artisans use traditional Mongolian techniques that let these workers, many who have come from lives of poverty or alcoholism, preserve their culture and identities while supporting their family.