Fair trade for a fairer world
Many of us ask ourselves what difference we can make in a world fighting poverty. What can one person do? For Sheila, a UK resident from the north of the UK, the easiest place to start was right where she was.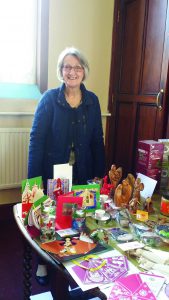 "I've always loved fair trade!" she told us as she set about selling goods through our Global Handicrafts service. "I love telling the stories of the people who make them and then selling the products that will see them helped!"
Sheila has been as good as her word. She has taken Handicrafts products to stalls, fairs, fetes and other events that allow fair trade to be sold. She has gone a step further, though. Smart enough not to stop with the sale of one-off crafts, Sheila has also targeted consumables: items which people need repeatedly.
"Coffee, tea, chocolate… These are things people need regularly!" says the redoubtable Sheila. She has now set up a system that allows people to place their monthly orders which she delivers to them.
We were astounded at her commitment. "Why not?" she told us. "There is no need for them to come to us. We can go to them!"
She has all manner of ideas to combat poverty by selling fair trade products. "The world is our oyster," she says, unstoppable in her quest to get fair trade not only into people's hands, but also into their minds.