Team Builds for a Broken World
It's a team build with a difference: companies with a conscience, looking for meaningful staff 'time out', often ask us to run simulation Global X-periences for their people. This year, in the UK, our corporate team builds focussed on 'Struggle for Survival': our programme which simulates the complex range of issues underlying poverty. In it, participants make market bags out of newspaper with a simple glue of flour and water. With that, they must earn an 'income', under the pressure of a condensed timeline, in the face of poor housing, facing the battle for food, shelter and education. Among this year's participants were law firm, Linklaters, Cathay Pacific and Hewlett Packard Enterprise.
Of course, at best, we can only simulate such pressures, but we aim to embed them in reality for those we serve. It was then especially moving to hear from one of the participants that, while she now works in the UK, she too used the flour and water glue when she lived in one of Hong Kong's less affluent villages. It opened my eyes in a way I didn't know was possible. said a Linklaters staff member, after doing the Struggle for Survival in London, 2018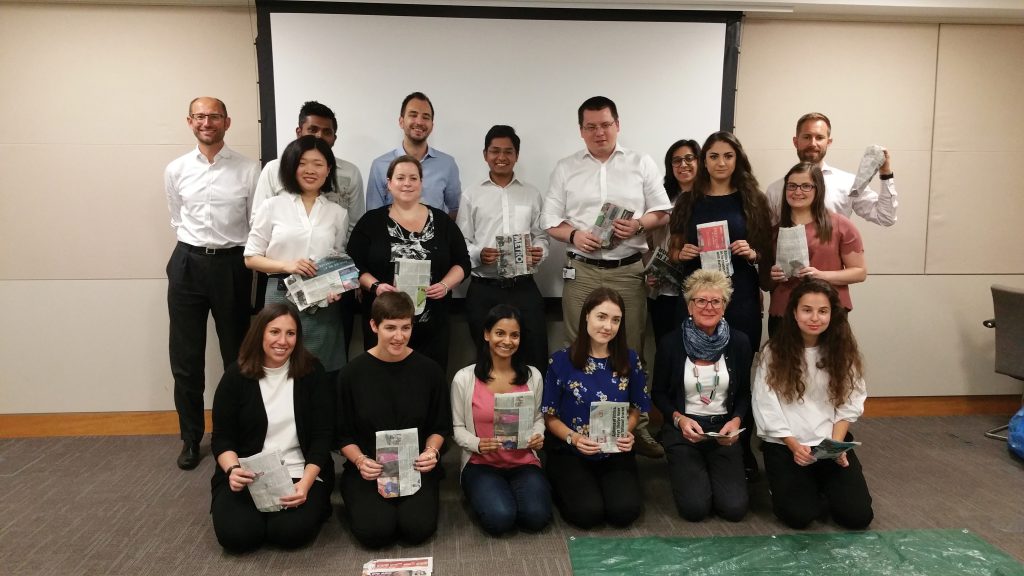 It opened my eyes in a way I didn't know was possible.

Linklaters staff member, after doing the Struggle for Survival in London, 2018
The luxury of choice
As corporate participants undertook the simulation, the issue of choice came up. "It gave me a better understanding of the luxury of choice, leisure and the absence of fear," wrote one. That realisation can be profoundly impactful for people working on comfortable (or better than comfortable) salaries in the private sector. Choice is a given. Not so, too often for those battling poverty.
"The biggest impact," wrote another, "was becoming more conscious of the sheer lack of choice struggling people have, and what needs to change to give them that choice." The programme gave "a lot of insight into the choices surrounding poverty and how misunderstood it is."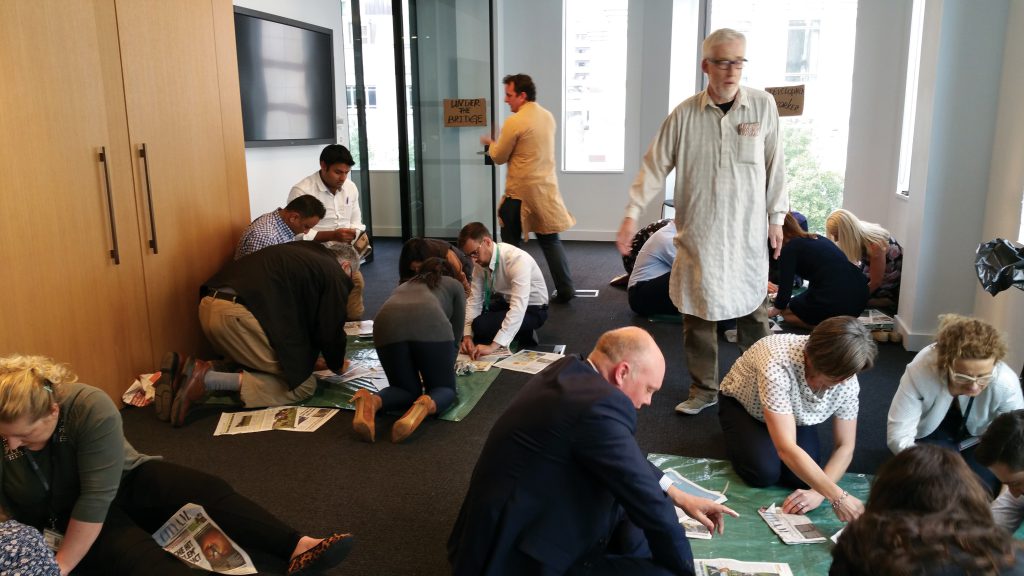 This made the issues feel real. It made me want to do something to help.

Hewlett Packard Enterprise staff, engaging in over a number of years with Crossroads, including offering the Struggle for Survival to staff in 2018.
Another added that the x-perience "forced me to confront how judgmental I can be when regarding those stuck in poverty. Their choices are not made in a vacuum. They live in contexts I can't even begin to understand."
Another added: "I saw how one's situation changes perspective, how it narrows the field of view and we forget who we should be. It made me recognize that there is more I could proactively be doing: opened my eyes to the daily struggles and why people are in certain situations." That's what we love best about these simulation programmes: the fact that empathy gives way to engagement with the issue.
---
What can UK companies do with Crossroads?
DONATE GOODS: Do you have quality product available? Whether it is in the UK or anywhere else in the world, we would love to hear about it. Our Global Hand service is, in essence, a virtual warehouse through which we seek to match appropriate product with NGOs, in any country. Sometimes that 'match' happens intranationally. At other times, the product may be shipped internationally by the NGO. Either way, please let us know if your UK company has surplus product.
FAIR TRADE: Are you interested in fair trade products? We have producers we can connect you with and will happily do so.
BOOK A SIMULATION: Would you like to consider a team build which incorporates one of our simulation x-periences? We have seasons when they are available and, if you let us know, we'd be glad to plan accordingly.