Struggle for Survival: Poverty Simulation
We have a saying at Crossroads. We can't meet world need alone so we love to help others help others: to be multipliers. One way we do that is through our experiential programmes which simulate world needs, including our poverty simulation: Struggle for Survival.
A World Bank report captures, powerfully, the extent of such need.
"It is becoming even more difficult to reach those remaining in extreme poverty. Despite the progress made, the number of people living in extreme poverty globally remains unacceptably high."
We all know it's a problem, but it can be difficult to connect with the real lives and struggles of the people these huge statements represent. If we can't connect, we can't care. And if we can't care, we're unlikely to act.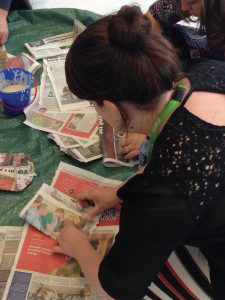 Crossroads' Struggle for Survival simulation has reached tens of thousands of people across the world, thrusting them into a situation, for just a short hour or two, where they taste the intense challenges and agonising decisions faced by those living in poverty. Afterwards, students and CEOs alike reflect on the role they can play in solving world poverty.
In 2017, CGV UK helped run the poverty simulation Struggle for Survival for both students and corporate groups.
Want to book a simulation for your group? Email enquiries@cgvuk.org