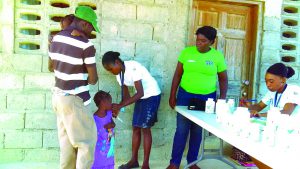 Being pregnant in Haiti is like stepping into a minefield, for both mother and baby. It's the most dangerous place for pregnant mothers and new babies in the Western hemisphere: women here have a 1 in 80 chance of dying in pregnancy or childbirth. Even if they make it safely through the birthing process, gaining proper nutrition and care is difficult. A third of all Haitian women and children are anaemic, and according to the UN, about half the population has no access to basic health services at all.
Haiti Action Collective is trying to battle those statistics, one woman at a time. As part of their projects working with the poorest of Haiti's poor, they give care to pregnant mothers, new mothers and their babies. When they saw an offer on Global Hand from US charity Vitamin Angels, they knew it had wonderful partnership potential. Vitamin Angels was offering an ongoing supply of vitamins and medicines, which HAC has now accepted, and begun distributing. "Since registering with Global Hand, we've benefited a lot," said HAC staff. "With the support of Vitamin Angels, we're now distributing Vitamin A and deworming tablets to pregnant and lactating women in Haiti. We're very grateful. You have boosted our activities here in Haiti."
We're grateful in turn for donors like Vitamin Angels for reaching out through Global Hand to make lasting partnerships for real change.